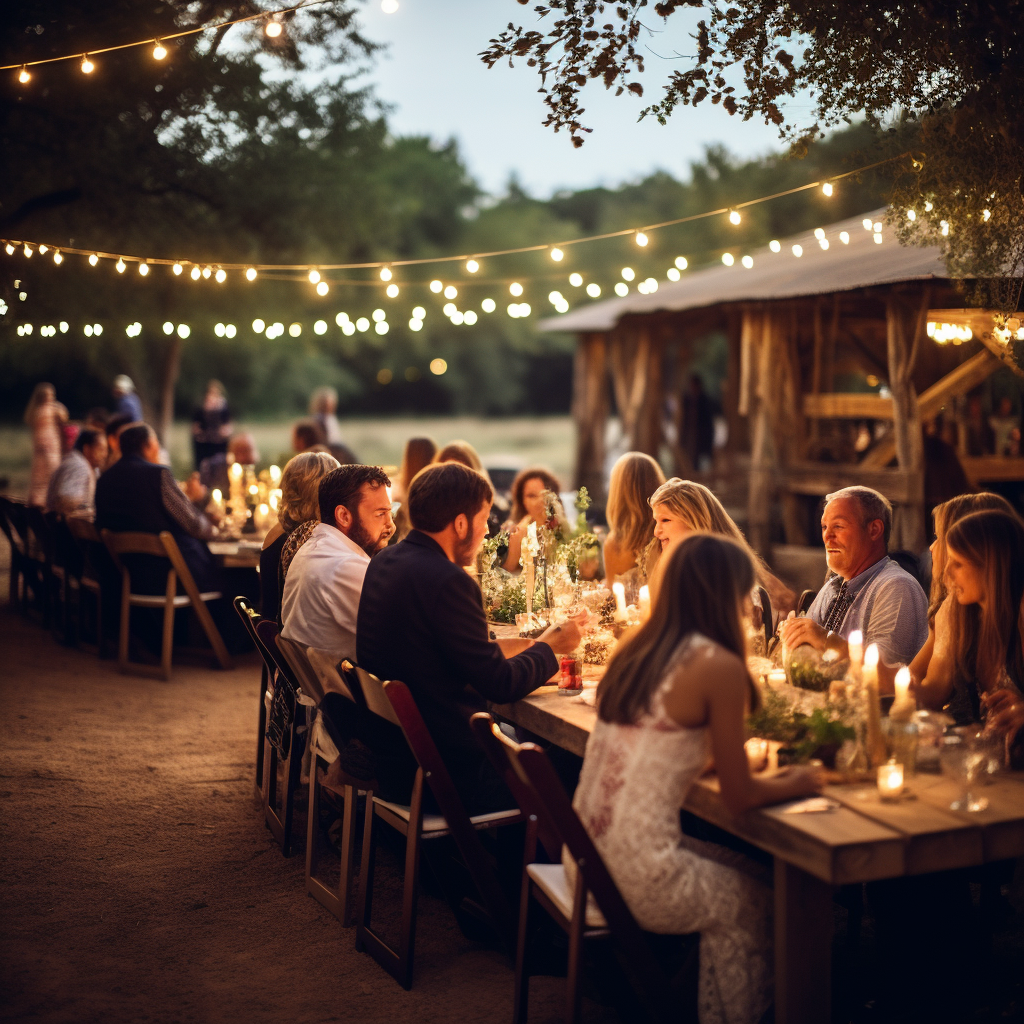 Elegant Guide To Hosting Large Rehearsal Dinners
Preparing for your wedding involves more than just the main event. Before the wedding, it's a great time to get close to family and friends. Families and friends gather for large rehearsal dinners before a wedding to create memories.
Crafting an Unforgettable Large Rehearsal Dinner
Your journey begins with carefully selecting your guests. Families, wedding parties, close friends, and relatives who have played an important role in your life are usually included. Once your guest list is finalized, create elegant invitations that reflect the style and theme of your wedding. Make this your guests' first impression of your Special event.
A Perfect Venue for Your Event
It is important to choose the right venue for a memorable evening. A location that can comfortably accommodate your guest count while maintaining an intimate feel is ideal. Whether it's a charming garden, a luxurious banquet hall, or a trendy restaurant or wedding in the desert the venue should align with your vision for the Special event. Parking and accessibility should be considered so that everyone can have a smooth experience.
Designing the Ambiance with Decor
The decor you choose will contribute to the overall ambiance of your large rehearsal dinner. Select elegant floral arrangements, table settings, and lighting that complement your wedding's theme. In order to create an enchanting atmosphere, you need to create a sophisticated, sophisticated, yet comfortable atmosphere. Photos and mementos can enhance the decor and make it extra special by adding sentimental value.
Creative BBQ Menu Ideas for Special Events
Infuse your special events with culinary delight through creative BBQ menu ideas that elevate the experience. From succulent smoked meats to inventive vegetarian options, curate a diverse spread that tantalizes taste buds during wagon tour dinners. Consider themed menus like "Southern Comfort" with pulled pork sliders or "Grilled Elegance" featuring gourmet kebabs. Prepare delectable side dishes, homemade sauces, and refreshing beverages to go along with these dishes. Wagon tours and BBQ dinners are a perfect combination of flavors. Let your guests relish the delicious bites and the unforgettable memories created in each moment of togetherness.
Engaging Entertainment and Activities
Make the Special event energetic by incorporating activities and entertainment that engage the audience. An entertainer or a DJ may be a good choice, or arranging interactive games to encourage laughter and bonding among your guests. The use of photo booths and slideshows can add a personal touch and remind everyone of that beautiful journey that led to this moment. Our goal is to create an environment that allows guests to relax, connect, and celebrate.
Hosting Large Rehearsal Dinners
Elevate Your Rehearsal Dinner Experience with a Wagon Wedding in the Heart of Palm Desert! Picture exchanging vows in rustic charm, surrounded by the breathtaking desert landscape. Afterward, savor a delectable BBQ dinner under the stars, creating memories to last a lifetime. Whether you're a local couple or planning a destination event, our Covered Wagon Tours promise an unforgettable celebration.
conclusion
This Is an art that requires meticulous planning and attention to detail. Follow these elegant tips to ensure your event is seamless and memorable. Creating an elegant and unforgettable evening begins with creating the right guest list and invitations, designing the ambiance, planning the menu, and organizing entertainment. The Large Rehearsal dinner is an opportunity to express gratitude, celebrate love, and create cherished memories with those who mean the most to you.
FAQ
1. How can I choose the perfect venue for a large rehearsal dinner?
To select the ideal venue for a large rehearsal dinner, assess the guest count, ambiance, and accessibility. Choose a location that aligns with your theme, provides comfort, and creates a memorable setting.
2. During the dinner, how can you capture memorable moments?
During the dinner, capturing memorable moments can be achieved by having a designated photographer, setting up a photo booth, or encouraging guests to share their photos on social media.
3. How do you make a rehearsal dinner special?
Craft a unique ambiance with personalized decor, select a meaningful venue, curate a menu with favorite foods, include heartfelt toasts, and plan interactive activities to ensure an unforgettable and cherished rehearsal dinner experience.
4. Can I plan a menu that will appeal to a variety of tastes?
Absolutely, planning a diverse menu is key. Collaborate with a professional caterer to offer a range of appetizers, main courses, and desserts to accommodate different preferences and dietary needs.
5. What are some creative ideas for decor and ambiance?
You can incorporate live music, a DJ, interactive games, or sentimental slideshows. These entertainment options encourage mingling, and laughter, and create a dynamic atmosphere that engages your guests.